Hello again! I am sorry for my long absence. I bring to you a sewing post, as promised.
I found this fantastic vintage inspired fabric. It reminds me of parasols or umbrellas. I have been longing for the days of spring. With it just snowing another 5 inches of snow last night, I guess I am going to have to wait a bit longer. ugh. This new skirt lifts my spirits though. Can't wait to wear it outdoors!
I decided to mix three different patterns instead of just winging it like I normally do. I figured I'd be a little rusty, and I might as well use a guide. I am happy to report all went pretty smoothly. Well, I guess you can see for yourself.
The only little snafu I had, was I didn't buy enough fabric. I forget that it takes 3-3.5 yards to make circle skirts. Luckily, when I went back to the store they still had the same bolt out, so I just had them cut me the same amount. Now if I want to make a bolero, I now have enough for that too. You can't really tell from the photos, but this skirt has a pocket. Almost every dress or skirt I sew has pockets. For me I am a women that finds them a necessity. I hope you agree.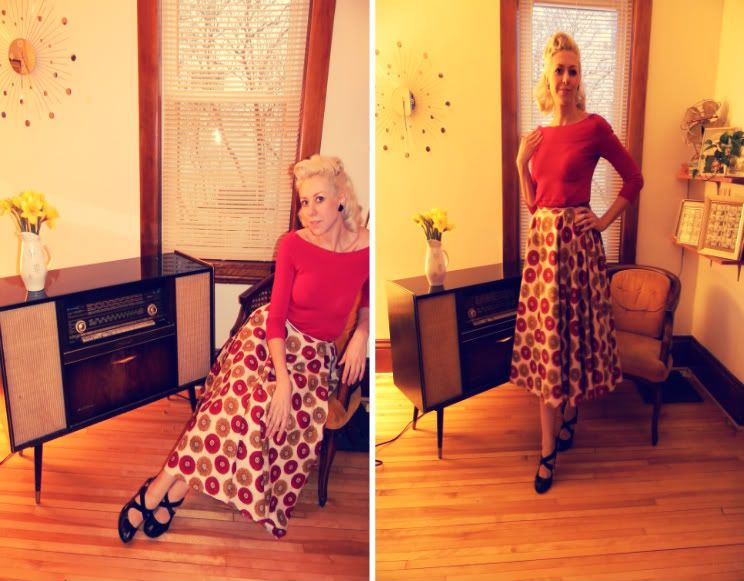 I made another circle skirt today, just needs to be hemmed. I also cut out two different tops out of that same fabric. I can't wait till I have some time to finish them. I will share those pieces too, when they are finished!
Hope you all have a great rest of your week. This is how I will be spending the rest of my evening.
Au Revoir!