Last week I attended a forum at the Minnesota History Center. It was called "History of Hip: Minnesota Naughty!" The forum explored Minnesota's racy side through two of their finest risque exports, pin-up artist Gil Elvgren- the Norman Rockwell of Cheesecake- and Munsingwear- Minnesota's claim to underwear fame.
Here.
They probably have it at your local library as well. Give it a look.
On to the second part of the forum! Elvgren!
Gil Elvgren is one of my favorite pin-up artists. Although not as popular as Vargas or some would say Petty, I still like his girl next store images. She is always active getting herself in all kinds of trouble, but still cute as a button throughout the whole ordeal. These are the two originals they had on display: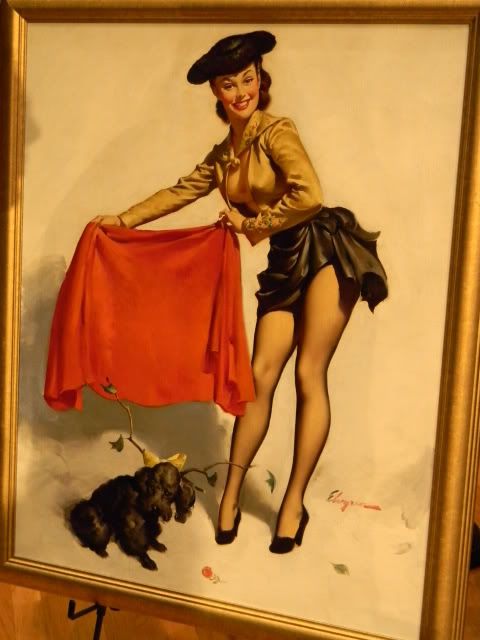 Sara Murphy was the speaker and owner of these originals discussing Elvgren. Elvgren was raised in Minnesota and after high school attended Minneapolis Institute of Art (Which is about 5 blocks from my house). he later moved to Chicago where his studio was. He was known for often using neighbor ladies and friends as his models. As Sara explained, he was the type of man biographers hated. He was a quite man who loved his wife and was a wonderful father. (BORING!! Just kidding. I think it is refreshing!)
All in all, My best gals and I had a wonderful time. The photographer from the History Center, Bill Jolitz took these photos of the group of us gals and a few of me. He and I are going to do a photo shoot next month. I will be sure to blog about it after it happens.
And lastly, I leave you with my Elvgren. I found it at the thrift store for $7.99. A steal! I have it hung in our bedroom. Whenever I wake up and see it, it makes me feel whimsical. In my opinion one of the best feelings to have in the morning!
"Teeter Taught Her"
Au Revoir!